What is the most critical factor
in successful leadership?

Your ability to lead well in all directions.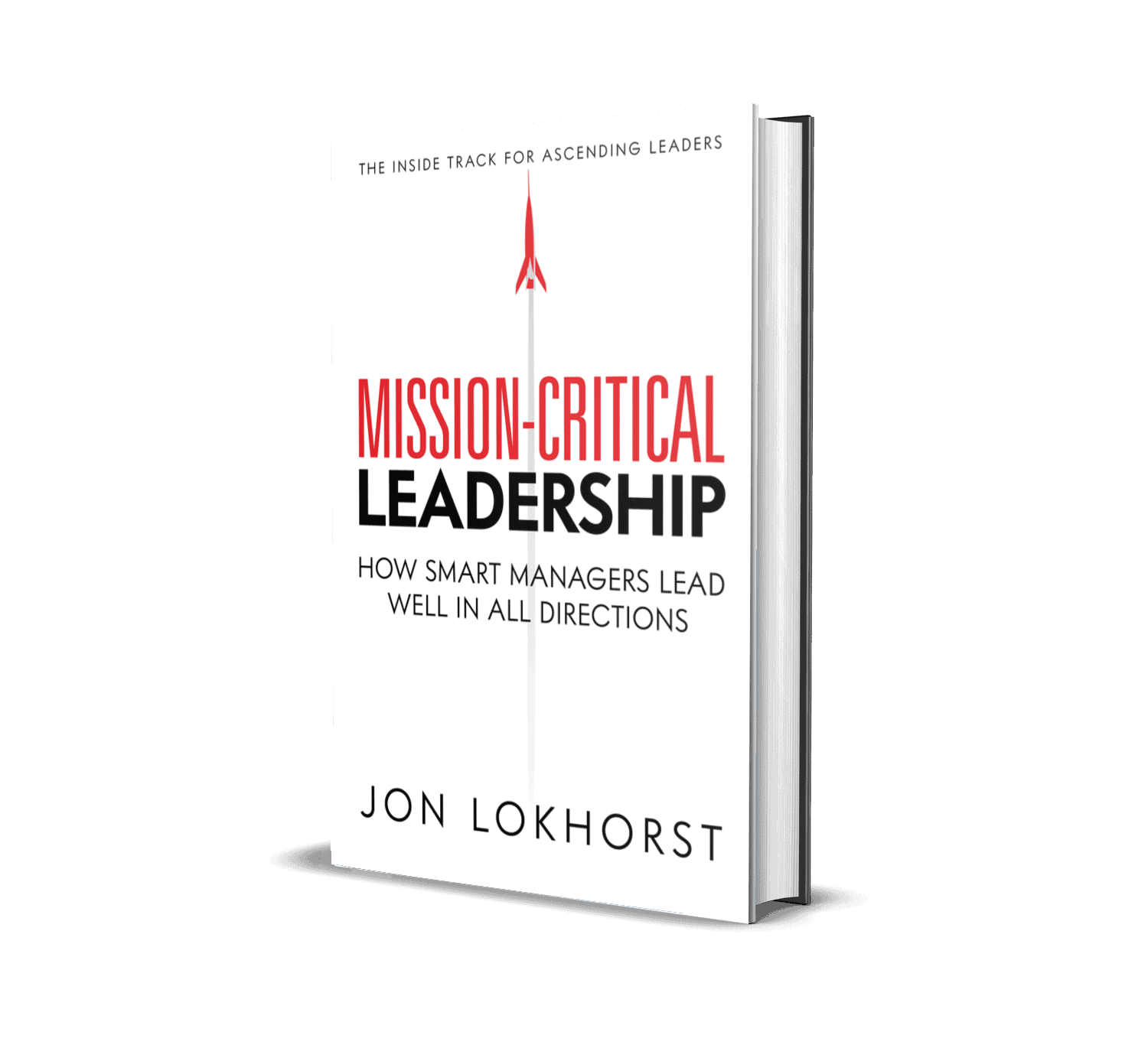 NEW! Mission-Critical Leadership: How Smart Managers Lead Well in All Directions
If you want to be a successful leader, you must lead well in all directions. But, how can you successfully master this practice when there are so few proven and practical resources to guide you? That's why I've written Mission-Critical Leadership. 
The overwhelming majority of leadership books, training sessions and development programs have one thing in common. Do you know what it is? These resources focus on a single direction in the organizational hierarchy: downstream. They are about how to be a better boss or supervisor for the team you lead or the people under you on the organization chart.
Don't get me wrong, it's crucial to lead these people effectively. However, if that's all you do, you have an incomplete view of leadership.
That is the core message of my new book, Mission-Critical Leadership: How Smart Managers Lead Well in All Directions. If you want to accomplish your mission, you need to do more than just lead the people for whom you are the boss.
You need to lead upward to your boss.
That may seem counterintuitive, but who else has more influence on your career advancement?
You need to lead horizontally, among your peers too.
That's the key to break down silos and get everyone working together toward bigger organizational goals.
And all leadership starts with self-leadership.
To lead others well, you must first lead yourself well. If you're like most people, that will be your greatest leadership challenge.
My book provides leaders with the inside track to advance within their organizations, all the way to the executive level. Building this leadership framework into your culture will:
increase employee engagement

break down silos

reduce turnover

develop a flourishing leadership pipeline for future leaders
Download Sample Chapter
Available Now From These Retailers
Praise for Mission-Critical Leadership
"Learn to build a culture that produces exceptional leaders across all levels in your organization. Mission-Critical Leadership is your guidebook to make that kind of culture a reality."

–Marshall Goldsmith, Thinkers50 #1 Executive Coach and only two-time #1 Leadership Thinker in the world.
"Jon Lokhorst is spot-on. You can be a great boss for your team but neglect the importance of building relationships with stakeholders in all directions. This book will help you actively engage the S Curve of Learning to become a great leader and lead at the top of your game."

–Whitney Johnson, one of Thinkers50 top business thinkers in the world and the award-winning author of
Build an A-Team
"In the realm of leadership development, you seldom find a resource as valuable as Jon Lokhorst's Mission-Critical Leadership.  This methodical approach allows leaders of all stripes to quickly find practical insights that can be immediately employed in a wide range of organizations and circumstances."

–Maya Hu-Chan, Founder of Global Leadership Associates and Best-Selling Author of Saving Face:  How to Preserve Dignity and Build Trust
Would you like information on bulk orders or on booking Jon for training or speaking?
The Mission-Critical Leadership Experience
Bring the book's companion training event, Mission-Critical Leadership Experience, to your organization. Jon will customize the Mission-Critical Leadership Experience to focus on relevant leadership gaps, hot buttons, and priorities for leadership development in your organization.
Ann Ownby Hicks, Ph.D., Dean, School of Business and Nonprofit Management, North Park University
Jon's creative approach to the multiple facets of leadership is an essential read for anyone committed to improving their leadership skills. The complexities of leading during a pandemic have accentuated an even greater need for a new and innovative view of leadership. Mission-Critical Leadership provides just that by presenting leadership as a multi-directional process – an approach that will benefit both leaders and organizations.
Chip R. Bell, author of Inside Your Customer's Imagination
Jon Lokhorst creates a whole new meaning to the phrase "all-around great leader." Today's leaders must be multi-directional and omnichannel, providing influence that is visionary, clear and smart. His riveting stories, profound wisdom, and pragmatic takeaways make Mission-Critical Leadership a must-read for leaders committed to the success of their organizations.
Steve Gray, Founder and CEO, Family Innovations Inc.
Jon shared the Mission-Critical Leadership framework with our team during a significant time of growth for our organization. Many of our managers and supervisors had little or no formal leadership training at that point. Jon inspired a fresh understanding among our entire leadership team about what it takes to be an effective leader, not just a good boss. I highly recommend this book for all leaders who want to maximize their impact on the people they serve.
Dave Stachowiak, founder and host, the Coaching for Leaders Podcast and Academy
Here is your compass for mission-critical leadership! Jon has created a superb, comprehensive guide to resource leaders at all levels. His detailed research, practical stories, and years of experience shine through this entire book.
Dr. Marcia Reynolds, internationally recognized leadership coach and author of The Discomfort Zone: How Leaders Turn Difficult Conversations into Breakthroughs
I have been teaching and coaching leaders for nearly 40 years. I consistently find that no matter how well they learn to lead their direct reports, they are often derailed because they neglect managing up and sideways. Mission-Critical Leadership gives substance to 360 perspective and development. The tips and examples will help you start implementing new ways of connecting and influencing today.
Julie Winkle Giulioni, Co-Author, Help Them Grow or Watch Them Go: Career Conversations Organizations Need and Employees Want
Mission-Critical Leadership is the book for our times. Jon Lokhorst dives into the complexity and challenges facing business today and shares his practical, actionable roadmap for leadership success. Filled with real-world examples, contemporary research, straightforward how-tos, and insightful challenges, this book offers what leaders need to help their organizations, employees, and themselves reach their mission outcomes.
Ryan Gottfredson, Ph.D., author of the Wall Street Journal and USA Today best-seller, Success Mindsets: The Key to Unlocking Greater Success in Your Life, Work, & Leadership
Effective leadership in the 20th century was about DOING. That is no longer enough. We have learned that effective leadership in the 21st century is about BEING, specifically BEING someone that others want to follow. Unfortunately, recent events have left leaders feeling pressured to resort back to a focus on DOING and outcomes. Mission-Critical Leadership is a timely reminder that if leaders want to effectively navigate their increasingly complex environments, they must elevate their BEING. Let Jon Lokhorst be your guide in BEcoming a leader that can accelerate the realization of your mission-critical purpose.